SBE CHAPTER 40 NEWSLETTER
AUGUST 2000
San Francisco
Roy Trumbull - Editor roy547@msn.com
Bill Dempster - Artist


BABES/SBE LUNCHEON ON WEDNESDAY Aug 30th
Our guest will be Kathleen Imhoff from C.A.E.R. They have the task of keeping the public informed when an emergency occurs in Chemical Alley. Recently they removed the EAS based equipment they installed a few years ago and replaced it with packet radio gear to monitor the EDIS transmitter on Mt. Diablo. We'll learn what that's all about.

You can view a PDF of the presentation here. Ms. Imhoff also passed out EDIS filtering sofware for those that need to manage their EDIS feeds.

As usual, our luncheon will be at Sinbad's just south of the Ferry Building on the Embarcadero near the foot of Mission St. We meet at 11:30 and are seated at 12:30.

ENNES IN BERKELEY

You've probably gotten a flyer by now regarding the SBE Ennes Workshops to be held at the Radisson Hotel on the Berkeley Marina on Saturday Oct 14th from 8:30 am to 4:30 pm.

Topics will include:
Aspect Ratio Conversion
Interactive Technology in US DTV
Video Transport Considerations Outside the Digital Studio
Time Compression for Broadcasters
Designing, Planning and Implementing a DTV Transmission Facility
Grounding, Lightning Protection and Designing of a Broadcast Facility
Amplifiers for UHF TV Transmitters
This is quite a feather in our cap to have an Ennes Workshop held here and we are looking forward to meeting members from chapters all over the country.

There may be some family squabbles when the wives see the Ikea store on their way to Berkeley.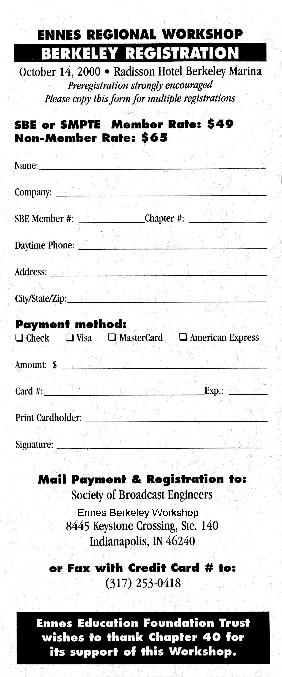 figure 1 - ENNES application

EMAIL ADDRESS

If you have an email address, please contact Warren Reese at radions@neteze.com. Warren is in charge of our email list, which we use when we need to notify members when something has happened between newsletters.

WEB PAGE

Webmeister Tim Pozar has the current newsletter plus newsletters all the way back to 1996 at: http://www.lns.com/sbe